Right after clients look at your overview, they scroll down and check out your portfolio. While your overview tends to tell them what you can do, your portfolio shows them. If your portfolio sucks or doesn't exist at all, then you'll probably get passed over for the next person. So today I'll show you how to build one even if you don't have any paid jobs to use as examples.
General Portfolio Rules:
ANY portfolio pieces are better than none
One full page is the bare minimum (4 portfolio pieces)
Two full pages is the minimum I recommend to establish credibility
Portfolio pieces with an image are better than without an image
Demonstrate your best work even if it is unpaid work
Make the first 2 pages look consistent
What Image Should I Use for My Portfolio Pieces?
There are three kinds of images I use for my portfolio pieces. Before I share them, you should know that you should use whatever makes the most sense based on the skill you offer.
For example:
Web Designer = Screenshot from the homepage of the website
Logo Designer = Images of the logos you've designed
Brand Designer = Images with consistent colors and style
Copywriter = Screenshot of website homepage copy or free stock photo image
Illustrator = Images of illustrations
Musician / Audio = Stock photo
Customer Service = Screenshot of website homepage (preferably with smiling face)
Virtual Assistant = Same as customer service
Sales = Image with the color red in it
AI / ML / Anything tech = Screenshot of app, software, or website

The 3 Kinds of Images I use:

What Goes in Your Portfolio?
As a copywriter my portfolio pieces usually have samples of my copy. Most portfolio pieces can be made in a Google Doc for free. Either add text, images, or text AND images to create a sort of case study. However, you don't have to do this if the copy/design is already visible on the website. You can just link to it in the portfolio piece.
As for specific pieces, give clients what they want. What kind of clients do you want to attract? If it's Real Estate clients, you'd better have Real Estate samples. Think about what your clients are specifically looking for. Does a client looking for a direct response sales page want to see creative poetry? NO! They want to see sales pages and landing pages using direct response style. Give them that!
What if I Don't Have Past Clients?
If you don't have past clients, then you need to make sample portfolio pieces. Here's how…
Copywriters = Write sample copy in the skill style you want to do. For example, if it's email marketing, write some cold and warm emails. For direct response, write a sales page.
Web Designers = Build a website or several one-page websites in WordPress. If you need a free option do it in Wix to get started.
Logo Designers = Make several logos in Inkscape for free or in your program of choice.
Basically just make some samples. There's no requirement that they be paid work. A lot of people get hung up on this for some reason. Don't let not having clients stop you. Create something to showcase what you can do and then load it up.
Once you create your portfolio pieces in Google Docs, then download them as a PDF because it looks nicer in your portfolio.
How Should I Title My Portfolio Pieces?
Use something relatively short that clearly describes the piece. If it's a creative piece, then it's okay to use a creative title. You will also want to use your skill keyword in some of your titles to help rank for SEO.
NOTE: You can sort your portfolio pieces so you can put the best stuff on the front page even if it's buried 10 pages deep right now. Click the opposite direction arrows for this option on any portfolio piece.

What Goes In the Description?
Obviously this is the place to describe the work. Be sure to add something in there. I use my description space to write full-length copy. You only need around a paragraph for other types of gigs and skills. Be sure to use your keyword if you can to help rank for SEO.
What Tags Should I Use?
I use a wider range of skill tags than in my profile tags. At the very least you'll want to use your keyword tag in your tags area. As long as you have that, you can put whatever else you want in here. I recommend keeping them relevant. If you're a copywriter, use copywriting tags.
Thoughts on Consistency
This is a minor thing, but consistency is important if you want to create a professional look. Make sure your first 2 pages of pieces use a consistent image. It doesn't need to be the exact same image, but it should look similar in terms of style to the other images. For instance, my images all use my brand colors. It shows the client that you have your shit together. You're not all over the place.

Linking Out to Your Website
Inside each portfolio piece there is a place where you can add a link to the piece of work. You can link to a client's website or your own. Either is fine. If you want to go a step beyond to get clients to click the link, you can use your description to lead them in that direction.
For instance, some of my portfolio pieces tell a story, but then it ends abruptly on a cliffhanger and says something like, "…continue reading on my website at lexdeville.com"
This will trigger clients to click to your website. If you were so inclined, you could then deliver the content, and maybe have a contact form on the bottom of the page, or possibly an email opt-in. Either of these could help you connect with the client beyond the usual means if you catch my drift…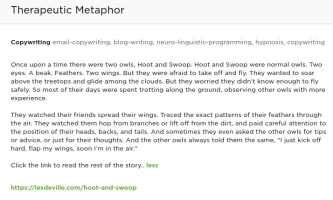 Final Thoughts
Poor Upwork portfolios lead to poor results. This is one of the biggest missed opportunities most freelancers make. Not only is your portfolio a chance to establish credibility and authority, when done right it helps you rank for SEO so you show up higher in search results. So spend some time on this, but NOT TOO MUCH TIME! If you're just getting started, get at least one page of portfolio pieces done and loaded in. Even if they're not your best work, it's better than nothing.
HOMEWORK
Your homework today is to create 4 portfolio pieces. If possible use work you've done in the past to create these. Doesn't matter if it was paid work or not. We want speed and momentum, not to waste time on creating new pieces if you don't have to. So create at least 4 portfolio pieces and load them into your profile. Add at least a 1 paragraph description and relevant tags and a title with your keyword in it. Do this now!